Chief executive Ben Mansford on the sacking of Simon Grayson and Blackpool's search for a new manager
Blackpool's chief executive Ben Mansford sat down with the media this afternoon to update supporters on the current search for a new manager.
He discussed a wide range of topics, ranging from Simon Grayson's sacking, to what the club are looking for in their new man and much, much more.
Here's what he had to say: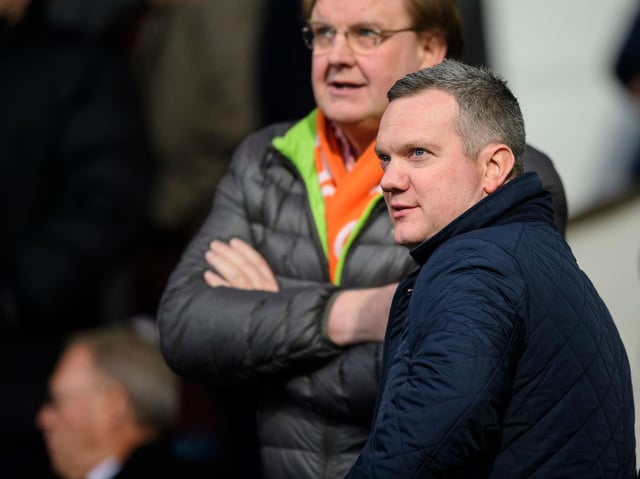 Chief
How important is it to update supporters on the current situation?
"I think it's very important.
"I'm in a very privileged position where I get paid to have a brilliant job.
"But ultimately the football club and Simon (Sadler), who calls the shots.
"I think it's just to give them every confidence that a process is underway.
"We've sat down as a board of directors and discussed what we would like to see in the next head coach.
"I think it's important we get the right one. People will understand why a decision was made to bring Simon Grayson to the club during the summer but it didn't work out.
"Therefore the board, myself and Brett Gerrity along with Simon really want to make sure we get the right person for the long term.
"Stability is incredibly important in professional sport and none more so than our football club at this stage."
Simon Grayson got a lot of backing in January, why wasn't he given the time to work with the players?
"I think you get to a place where you have to make a very difficult call.
"For me, unfortunately, I've had to let managers and head coaches go in the past and this was a difficult one because Simon is a real football gentleman, a really good guy
"Ultimately the squad, whether it was pre or post-January trading, we felt there was probably more to come from this squad. Therefore you have to make the very difficult decision of how much more time you give it.
"Now I think we have a good amount of time to make sure we make the right decision.
"While I will never say never, it looks like we're in a reasonably stable position and with the quality of the squad and from what I saw of what David (Dunn) had done with the team last Saturday, we can look upwards and not backwards.
"Therefore, we felt there was enough time with the pre-group and the post-group to suggest we should be getting more and getting better.
"Unfortunately in those difficult circumstances where results ultimately tell, that we felt it was right thing to do to make a change."
How did Simon Grayson take the news?
"I think what we talked about that day when we sat with Simon and told him we felt we needed to make a change should remain private.
"What I can say is to thank Simon, because he was an absolute pleasure to work with over the three months.
"He cared, he's a footballing guy, it's what he's done for over 30 years of his life and I respect him immensely for all he's achieved and I wish him all the success in whatever he does next."
Did the supporters have an influence on his sacking?
"I think in professional sport the supporters will quite rightly have a view. It's their club, it's a community asset and it's the heartbeat of towns like this.
"I've worked at other clubs where it's exactly the same, so you respect their view.
"Not always does everybody understand everything that is going on behind the scenes and sometimes it's right to sit and take some kicks and some punches - proverbial ones of course - when you might know the fuller information.
"I think the fans are quite rightly allowed to vocalise their disappointment when the players don't perform.
"They're quite right to question us if we don't communicate our decisions or make good decisions or more importantly repeatedly make bad decisions.
"Everyone makes a mistake, everyone is human, but it's learning from those mistakes and not making them again.
"I think it would be unfair to say the supporters had unduly influenced the decision.
"I think when we started going on the run we looked at when might be enough in terms of points targets and win targets. We tried to stick to those.
"I think the supporters have a huge part to play in this football club but we've got to be careful as an executive and as a board we have to try and split the head and the heart a little bit.
"I'm sure the supporters will understand that."
Was the style of play a problem?
"I think that's something we really must now put down, we really must say 'this is a Blackpool team' and 'this is our philosophy and our identity, these are the players we'll need to play the Blackpool way'.
"I'm really looking forward to the next head coach because I think it's a really key appointment.
"We want to respect the history, the 1953 cup final, the Ian Holloway history, and that needs to transcend the football club from the guys in the restaurant, to the grounds staff and to the executive office.
"We have to talk about what is Blackpool and we need to put that down - and that needs to filter down to the academy as well because that's the sort of joined-up thinking that is really important. I think that's what is next.
"We're not going to dictate if a manager plays 3-5-2 or 4-4-2 or whatever, but there are some key principles about what a Blackpool team look like.
"That will then give us the very best chance to use our resources to get exactly what we need to ensure we can be the best we can be."
Is attacking play what you want to get back?
"I think this is a town where there are some non-negotiables and that's hard work, that's effort, that's togetherness, that's discipline, that's standards.
"I believe Simon talked about entertaining football when he bought the club and I think that's what he feels.
"He knows there are some non-negotiables about hard work because if people in Blackpool have parted with their hard-earned cash to support their football club there's some effort, togetherness, teamwork, discipline that are set standards that can not be deviated from and if they do they shouldn't be in the football club.
"Then on top of that, yes you want to see attacking football, you want to see balls in the box, you want to see people like Connor Ronan with his little flicks and Kiernan Dewsbury-Hall with his crossfield passes, Liam Feeney getting the ball in the box and Sullay Kaikai with his free kick against Fleetwood. You want to see all that on top.
"Most supporters want to see a high-octane, a high press, entertaining style of football and we have to find the right person who is capable of delivering that.
"More importantly, we have to give them the tools for them to do it with."
So Blackpool are going to be getting a manager that can deliver that style?
"I think they're the things we've talked about, but we also want someone who's going to connect with the community, take an interest in the academy and help us document that 'Blackpool way'.
"We also have some plans moving forward with architects for the new training ground and there's some big projects, so we need to find the right person that can link all those up and really be a new hero and build their own legacy.
"The football club now is ready to take off. We have a fantastic owner, a truly committed owner and he wants it to be built the right way, for it to be sustainable and to have value in the team.
"I know he along with others in his family really want to see the academy play a part as well, so I think this is a wonderful job for someone to take on now."
Is that why some names that have been bandied about have such good reputations?
"It's something I spoke to Simon about when I first came in about giving the supporters a football club to be proud of again. Bit by bit we're trying to do that.
"The club has definitely come a long way from where it was.
"I think the word is getting out. You just have to look at the players we were able to recruit in January, they're very different to the players we've recruited in the past.
"I think people are starting to see Blackpool as a place to go and play their football and the club is on its way to being back.
"Those in the know that do their research about what Simon Sadler has brought to the club, in terms of my appointment, the other infrastructure appointments, the fact we now have two sports scientists, we're progressing to having two physios, we've got the latest GPS equipment, we have a three-man coaching team and in Steve Banks I love our goalkeeping coach who has a history with the club.
"People know the training ground is round the corner in terms of final design and trying to get the right location for that.
"On top of that we have a wonderful fanbase. Many managers that are interested in the job they sit on the various scouting packages and can hear the fans in the background. So they know they're coming somewhere that has got a chance.
"All of us want opportunities where you can achieve and I think people now are starting to realise this is a club where people can do that."