Looking at previous years makes this years efforts all the more impressive:
Blackpool's Armand Gnanduillet closing in on goalscoring records of Charlie Adam, Tom Ince and Andy Morrell
Armand Gnanduillet is now just three goals away from becoming the first Blackpool player to score 20 in a season since Andy Morrell.
Blackpool's Armand Gnanduillet named in EFL's team of the week alongside Birmingham, West Brom, Portsmouth and Coventry men
The Frenchman's brace in Saturday's 2-1 win against Southend United means the 27-year-old now has 17 goals for the season from his 32 games in all competitions.
The last Blackpool player to score 17 or more was Tom Ince in the 2012/13 season, when the goalscoring winger netted 18 as the Seasiders finished 15th in the Championship.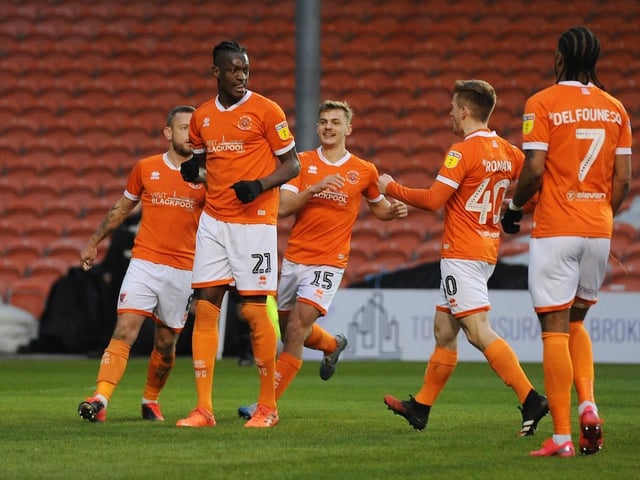 Gnanduillet's brace at the weekend means the striker now has 17 goals for the season
Kevin Phillips netted 17 goals in the previous season to help Blackpool to the Championship play-off final.
Gnanduillet is also not far off Charlie Adam's 19-goal haul during the 2009/10 promotion winning season.
The last player to hit 20 goals in a campaign for the Seasiders was Andy Morrell 13 years ago when the striker helped Blackpool clinch promotion from the third tier.
John Murphy scored 23 in 2000/01, while Scott Taylor notched an impressive 27 in 2003/04.
This will be the second consecutive season Gnanduillet will have finished as Blackpool's top scorer having netted 14 goals last season.
The striker, who Pool are in danger of losing on a free during the summer, has scored 42 goals in 141 games during his four years at Bloomfield Road.
Gnanduillet has 16 games remaining to add to his tally.
Blackpool's top scorers this millennium:
2000/01 - John Murphy, 23
2001/02 - John Murphy and Brett Ormerod, both 20
2002/03 - John Murphy, 19
2003/04 - Scott Taylor, 27
2004/05 - Scott Taylor, 14
2005/06 - Keigan Parker, 12
2006/07 - Andy Morrell, 20
2007/08 - Ben Burgess, 10
2008/09 - DJ Campbell, 9
2009/10 - Charlie Adam, 19
2010/11 - Charlie Adam & DJ Campbell, both 13
2011/12 - Kevin Phillips, 17
2012/13 - Tom Ince, 18
2013/14 - Tom Ince, 7
2014/15 - Steve Davies, 5
2015/16 - Mark Cullen, 9
2016/17 - Mark Cullen, Brad Potts & Kyle Vassell, all 13
2017/18 - Kyle Vassell, 11
2018/19 - Armand Gnanduillet, 14
2019/20 - Armand Gnanduillet, 17